Some Thoughts about Mallory Lewis
I had not met Mallory Lewis before two days ago. I knew her by reputation and everyone knows Lambchop. I booked her at the CL Hoover Opera House in Junction City Kansas to do a student performance and an evening show for the public. I have made my living in the Arts for many years but I have only been the Executive Director here for 7 months and Mallory was one of the first performers who have been booked by me. She opened our "For the Child in You" children's series and as such was responsible for much of the tone and over-all implied quality of my new artistic leadership. Every professional instinct  I have told me I was on solid ground from the moment I met Mally. She is totally professional, immensely likeable and a pleasure to work with. Everyone at the Opera House fell in love with her from my staff, to the front of house to my technical crew. She embraced everyone. She made the whole process easy and a pleasure. That doesn't always happen and when it does you know you are working with someone you want to rehire.
I gave Mallory two very different and potentially difficult assignments. She was supposed to have a 430 3-4 graders for her US History show but they sent 430 first and second graders. "Manifest destiny" explanations were just not going to work. Mallory reformatted her whole show on the fly and entranced the whole room including the teachers for the hour. Everyone left feeling they had been touched by the thrill of a live performance in a magical environment and that is what I am hoping to give these young people, many of whom had just had their first experience in a legitimate theatre of any kind. It became an experience that no technology can replace. They saw someone who created something in that hour that was just for them. No one left untouched. That's what Mallory does. Make magic.
That evening she did her standard show that highlights Mallory, Lambchop and her mother Shari in clips and stories. It's a very unique peak into the creative process and the emotions and talent that have swirled around Lambchop for years. The crowd was mostly adults but the kids who were there we tiny. Probably 3 to 5 year olds. I thought, "How do you keep the adults entertained and moved without having the little ones running up the isles?" Believe me, not just anyone could take that challenge and create an evening that worked on so many levels for everyone. As I stated, I didn't know Mallory Lewis two days ago but believe me I know her now and she will be booked back and soon.
If there is any support I can provide you or give to anyone considering booking Mallory please use any part of this statement or ask for another specific one or give my information as a reference. Director@jcoperahouse.org or 785-238-3906. I not sure how you can let potential bookers know what they are missing if they don't invest a very reasonable amount of time and money and get Mallory and Lambchop to their venue other than to say I personally guarantee they will get a return on that investment and they t will be saying something along the lines of "I didn't know Mally two days ago but…"
Best,
Randy
Randal K West
Executive Director
CL Hoover Opera House
Junction City ,KS, 66441
785-238-3906
Be Nice, Have FUN! is Mallory Lewis' motto. She lives by it as a single mom to her teen son and as a successful mompreneur. I had the opportunity to talk to Mallory Lewis on the phone and I was so excited when she called me that I obviously tweeted about it.

In case you are wondering, that is not a nickname. Mallory Lewis is the daughter of the late entertainer/ventriloquist and Lamb Chop original companion, Shari Lewis. She bravely decided to keep her mom's legacy of love alive:
"I was pregnant when my mom died. I could not imagine my son growing up in a world without Lamb Chop." said the self-proclaimed Positive Mom. I got goose bumps.
Do YOU remember Lamb Chop on PBS? I must confess I didn't grow up watching Lamb Chop since I grew up in another country (Mallory was not surprised about this fact since she could hear my Hispanic accent and my Latina giggles).  The first time I saw Lamb Chop — and naturally fell in love with her — was watching a re-run of The Nanny on Sony Entertainment Television. She was so funny, frisky, witty, and wise. Mallory Lewis agreed: "She is such a genuine character. Honest, spunky…she makes people happy. She says things that grown ups can't say!"
Between you and I, Lamb Chop sounds just like me… and we're probably about the same size, too. He he.
"Pat Brymer, who has been working with Lamb Chop for decades, is sitting right next to me and he worked on that episode of The Nanny with mom" she said during our phone call and she chatted with him for a few seconds during our call.
You could just feel the sweetness in her voice every time she said "mom." She told me they were best friends and they went shopping together at The Beverly Center to spend time together when they weren't working. She worked with her mom . I asked her what she most admired about her mom.
"Of course she was a very smart woman, passionate about her work as a trained dancer, symphony conductor, magician, and musician… but what stood out to me was that she always did everything to its fullest ability. I've never met anyone with more focus!" she said.
I'm sure you've heard my definition of FOCUS as an acronym: Follow One Course Until Successful. It worked for Shari Lewis and it's definitely working for Mallory Lewis. She's a a celebrity – featured on the NY Daily News, USA Today, Baby TV,  LA Times, Common Sense Media, Parenting Magazine, just to name a few. But the element of her work she enjoys the most is being able to give back. She especially loves to perform for the US Military Troops and to bring awareness to diseases like ALS and Parkinson's.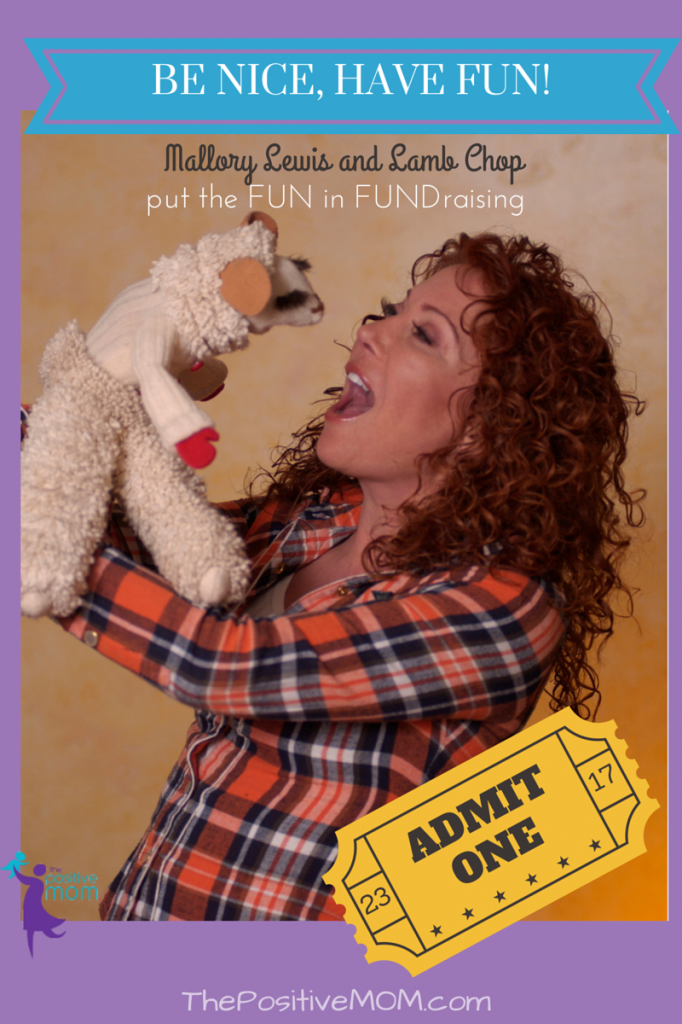 Today, my daughters had the opportunity to chat with Mallory Lewis and Lamb Chop live on WFAA channel 8, to invite the community to gather at 2 pm on September 13, at The Heights Baptist Church in Richardson for the ParkinsonVoiceProject.org event a nonprofit organization dedicated to preserving the voices of people with Parkinson's. A very personal cause for all of us: Mallory Lewis' dad struggles with Parkinson's, and September 11, when she and I spoke from her Malibu home, marked the 13th anniversary of the Twin Towers falling, but also of my grandmother's losing her battle with Parkinson's, as well.
"I'm excited to sing with a hundred people… a live band with real people!" She is very family oriented and has a 300-people family reunion in the Dallas area.  "I have the best family.  We all love each other. Everybody gets along," she expressed.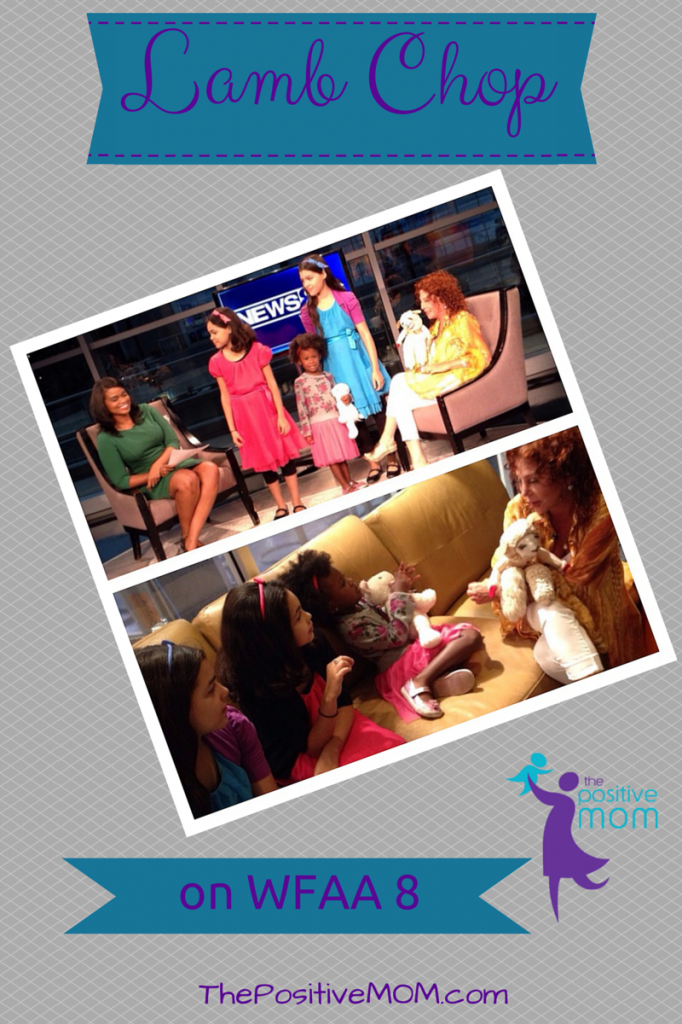 My daughters and my husband loved meeting Mallory Lewis (I stayed home with my little pigeon), and assured me she is even prettier and nicer in real life.
When I asked Mallory about the topic of creating JOY, BALANCE, and SUCCESS on your terms, she said:
"Some months I pay myself really well, some months not so much, but I am blessed to do what I love and watch Lamb Chop bring joy to so many families. I have an ocean view in her small Malibu home, 2 dogs, a rescued horse, and a 5 year old car.  There have been plenty of challenges to overcome, but I believe in myself.  My mom taught me that "nobody gets out of this life alive" and to be resilient through it. I love being a single mom and James' dad and I practice co-parenting without the unnecessary tension. My son has been working with me since he was a little boy. He been gentler to me than I was to my mom when I was a teen."
Her secret to BEING a positive mom: " Reinforce The Good! I assumed awesomeness for my kid and I have only gotten awesomeness. When my son was little I used to compliment him on his 'advanced palate' and he would eat anything! I told him his job was get straight A's be a plasure to live with and I would take care of the rest."
This is wisdom, ladies! If you're local to Dallas, you don't want to miss this event. If you're not, check out Mallory Lewis and Lamb Chop website to find out when she'll be in a city near you.
BE POSITIVE and You'll BE Powerful,

Elayna Fernandez ~ The Positive MOM
Any and all written, visual, audio, and video content above are sole intellectual property of Elayna Fernández ~ The Positive MOM and may not be used without permission from the author. Elayna Fernández ~ The Positive MOM is a vegan Latina #foodie homeschooler mommy of 3 living in Texas, passionate about mentoring moms around the world so they can develop a Millionaire Mom Mindset and create JOY, BALANCE, and SUCCESS on their OWN terms! Please SUBSCRIBE, COMMENT and SHARE! Copyright © Elayna Fernández ~ The Positive MOM 2009 – 2014
Several generations of kids grew up with Lamb Chop — the sassy little sock puppet who debuted on "Captain Kangaroo" in 1957, coming to life on the hand of ventriloquist Shari Lewis. During the 1960s, Lewis and Lamb Chop had their own musical-comedy network television show and made countless appearances on "The Ed Sullivan Show." In 1992, the duo launched the PBS children's show, "Lamb Chop's Play-Along," which won Emmy Awards for five consecutive years.
Lewis died in 1998 and after a brief career hiatus, Lamb Chop went back to work — this time sharing the spotlight with Shari's daughter, Mallory Lewis. Huff/Post50caught up with Lamb Chop and Mallory as the pair were en route to a show in Vancouver. (Mallory was flying coach and Lamb Chop in the overhead; she won't fly in checked luggage, said Mallory.)
How did you and Lamb Chop decide to put an act together?
I was pregnant when Mom died, and for about a year after her death, I traveled around the country accepting awards she was given posthumously. At one point, I brought Lamb Chop along and when they handed me the award, Lamb Chop popped up and said "Shari would be so proud." The audience went crazy. We both loved the reaction and so we decided to keep the act together.
Uh, I notice that you speak about Lamb Chop as if she were, well, alive. You realize it's a sock puppet, right?
"It?" Did you just call her an 'it?" She won't like that. Yes, of course I know she is a puppet; I'm not actually insane. But she is alive to me and to her fans. I know that I do her. But, and this is hard to explain, I grew up with her as my sister and Lamb Chop is a very real character — very real to me.
How old is Lamb Chop now?
Lamb Chop is six. She is forever six. But she lies about her age, just like everyone else in Hollywood.
I heard that the Smithsonian wanted to provide a permanent home for Lamb Chop. Is that true?
Yes, but she wasn't ready to go. The Smithsonian is for retired puppets. Lamb Chop still has an active career and no retirement plans. She lives with my son and me in Malibu. I take very good care of her. She sleeps in her favorite sheet bag in my closet.
What work is she — now you have me calling her "she" — getting these days?
Primarily we do three kinds of shows: We perform at fairs, performing arts centers and we do anything the military asks us to do. The military is one of our main charities. Lamb Chop loves performing for the troops and we've gone all over the world to do that. In fact, Lamb Chop is a three-star general. She was given a field promotion by Lt. Gen. Tom Conant, deputy commander of the Pacific for the Marines.
Your act is still a children's act, but I'm told that your audiences are primarily adults. Is that true? And why do you think that's the case.
Yes, primarily our audiences are adults — parents and grandparents who often bring the kids along. Lamb Chop is an icon. She represents a happy time in people's lives and they love her for it.
How do you explain her lasting appeal?
Lamb Chop is very likable. She is a really honest, truthful character. I think people appreciate her, especially for her honesty. She once got all dressed up as a Marine general and I said to her, "Hey, you could be arrested for impersonating an officer," and she came right back at me with "Yeah, and you could be arrested for impersonating Shari!" She's a very quick-witted puppet.
A good lead-in for my next question: Are you following in your mom's footsteps or have you changed the act?
If you're asking how much of what I do is Shari, the answer is "a lot." I wrote a lot of her material. My routine is more contemporary because I'm more contemporary. But if she was still alive, she would be doing my comedy.
I'm sure you get this all the time, but I have to ask — is this the original Lamb Chop?
Lamb Chop's image is protected by a very specific covenant. It spells out how she must be handled to preserve her public image and ensures that she gets treated the way she deserves to be treated. All I can say to your question is, do your socks last 60 years?
So far, Lamb Chop has been a family act. Do you see your son taking over?
That will be up to him. Jamie is a great student and very academically gifted. He will have lots of choices. He's been Lamb Chop's road manager since he was 8 years old. He sets up her sound equipment, handles her lighting and music cues, and sets up and breaks down the merchandise we sell. I can't operate the show by myself and when he's in school and we're traveling, I have to hire someone.
So what's up next on Lamb Chop's plate?
We have a new performing arts center show called "Lamb Chop Loves America." It's a curriculum show for kids 5 to 12 — American history as seen through the eyes of Lamb Chop. Lamb Chop does very political comedy. By the way, she has a huge crush on President Obama — Michelle better watch out!
The family-fun series kicks off with a star showdown this weekend, but will also feature acts such as Abbotsford's Victoria Duffield, Shawn Desman and the return of Shari Lewis' Lamb Chop, performed by her daughter, Mallory Lewis. Read More: >>
Now, I ask ya, who in the world has the time to blog every day? As you can clearly see, I've been much too busy to do so, especially since a nice BIG FAT computer crash! Lovely — just lovely!
No promises, but I'll try to do better. If you check in daily — don't waste your time. Ain't gonna happen. The newsletters are still rather active though. BTW: If you haven't visited Parent to Parent lately, jump over and come back. We still have some awesome contests up for your kids and who knows – maybe your little kiddo might be a winner of a $100.00 AMC Movie Gift Card! WHOOHOO! Check out the other contests including one just for fun for **MOMS** — have you heard of the new baby phonics craze? This specific contest is related to Mallory Lewis' new Phonics 4 Babies DVD: Baby's First Words. (Which I happen to love!) The first DVD in this amazing series, has already won several awards, including SIX from Parent to Parent Adding Wisdom Award! Now, that's pretty darn hard to do! GO MALLY!
OK – on to Halloween Safety Tips!
By Lan O'Kun / Special to The Malibu Times
How rare it is these days that educational information is entertainingly presented on our screens, especially for very young children. So it is with delight to have
viewed the first of six DVDs called "Phonics 4 Babies, Baby's First Words." It stars Mallory Lewis, daughter of Shari Lewis, famous for Lamb Chop, her puppet made from a sock.Having been brought up by the best in the business, Mallory Lewis is an absolute delight to watch, always entertaining, ever charming,
friendly, completely at home in the atmosphere she creates. Parents will instinctively understand that there is a nice intelligence in this entertainer, a knowing leader and teacher, who doesn't gush, or boss, but smilingly breaks through the barrier of the screen and becomes an immediate friend.Lewis works with quite uncomplicated puppets here, at which she is, through years of exposure, always expert, and wonderfully accessible. She sings quite well, and the show is full of music to learn by.The screen is full of strong, primary color, with plenty of movement to catch a child's eye and hold their interest. The goal of this entertainment is to teach a baby's first words, and the reading information on the jacket informs that there are 300 initial key words for an infant to learn.
The 60-minute DVD contains the baby material, and Dr. Kovacs North, a licensed clinical psychologist at UCLA, discusses child speech development in an in-depth interview with Mallory at the end.
The incipient series is well researched and watched over by UCLA child experts.
The first DVD of the series, priced at $14.98, will be available Sept. 25, and can be purchased at Wal-Mart, Sam's Club and Toy 'R Us stores, or online at www.Phonics4babies.com
If your kids are going to watch TV (and they will), they might as well watch a program with the slogan, "Unleash the Genius in Your Child." Phonics 4 Babies "Baby's First Words" is a new DVD starring Mallory Lewis (daughter of "Lamb Chop" creator Shari Lewis) and her puppet Giggles in which they aim to introduce children to their first 300 key words and phrases.
The distinguished reviewers of the DVD were my two sons, 6-month-old Hayden and 3-year-old Ethan. The program immediately caught their attention with its bright colors and singing puppets. The show seemed to cover all the basics—from the alphabet to shapes and numbers and vowel/consonant formation. I particularly liked the emphasis on "please" and "thank you." The songs were catchy, and Mallory was likable without being overly cheesy (as many adults in children's shows can be). My son was asking to watch it the next morning which meant it passed the "toddler test!"
My 3-year-old son already knows quite a few words, but I think it will further enhance his vocabulary and help him learn letter recognition. It is a good introduction to words for my 6-month-old, and it will really hit home once he is around 8-9 months old. I still have a couple of those songs stuck in my head—I have to admit, they are pretty catchy.
Phonics 4 Babies "Baby's First Words" release date is set for September 25th is currently available for pre-order at Best Buy for $12.95. Other retailers include Amazon, Wal-Mart and Circuit City.
Testimonial
Hello Mallory and Lambchop! I just want to tell you about our experience with your music. We were in the audience in Ventura this summer, my husband and I grew up watching Lamb Chop and were excited to share this with our 2 yr old. We had to leave early when got fussy but you were so sweet about him starting to cry, lamb chop spoke to him a bit and we were thrilled. Despite our early departure Declan, our son, has been singing the up, down, in, out happy all the time song from that day on. Onc…